Our Passion & Pursuit of the Personal
Stevie Nicks Collection

A happy twirling Stevie Nicks fan can become an seriously obssessed Stevie Nicks collector at any time. Many fans never notice the subtle changes until it's too late.

One day you may be shaking your tambourine at the TV watching the Wite Wing Dove Tour Video for the 16,754th time, trying to see what Stevie really meant when she looked that way, when you realize that your floor-to-ceiling bookcase no longer holds books, it is full of Stevie Nicks videos....
Glancing up at the clock you see it now has Stevie's face on it and it appears to be twenty-past-lips. It's late... you flip on the Stevie night-light and see that your family pictures have somehow been moved to the spare guest room and there are Stevie posters on your living room walls... and your kitchen walls... and your bedroom walls... Chiffon and silk flowers drip from your doorways. You used to have a chandelier over your dining room table, but someone has replaced it with a 4 foot promo mobile from the Fleetwood Mac Rumours album! The refrigerator is covered with Stevie Nicks photo magnets holding up more Stevie photos and crayon drawings from your kids signed 'RhiAnnOn' and 'SaRa'...
You try to call a family member to find out what happened to your house and your children, but the only numbers in your speed dial phone besides Ticketmaster and Silver Springs Emporium are other Stevie fans 1500 miles away!! Your new address book is full of record and memorabilia dealers all over the country, and your computer bookmarks are all Stevie Nicks sites! You find your keys with an Enchanted Tour keychain on them buried in a velvet fringed purse.. You attempt to drive and find help in the car, totally ignoring the speed limits and using the fast lane, but the Bella Donna CD stuck in your car player made you forget which highwayman's pony you were looking for in the first place...
So you return home in a much dreamier state of mind, hang your fringed cape on the back of your velvet chair and kick your platform-booted feet up on your coffee table (which has somehow been replaced by a battered roadcase with STEVIE NICKS stenciled on all sides). You light a few candles, turn on your custom-made blue glass lamp; stack your 50 CD changer with Stevie and sing along..

Somewhere along the way we all become obssessed Stevie Nicks collectors...
It is only a matter of time...
If you are reading this page you are aready on your way...
Some Stevie freaks with seemingly 'normal' homes redecorate entire rooms with their collections into "Stevie Shrines". Some Stevie fans fill their entire closet with live Stevie Audio & Video, throwing out all the clothes wasn't the problem, it's that lost Wild Heart video that is bugging one fan... Some of these rooms are off limits to the public and many visitors never know that
A STEVIE NICKS FREAK LIVES HERE!!!
I don't get a chance to share my little collection with many other Stevie fans in person
I thought you might enjoy seeing some of my favorite Stevie things here.
I have posted enlargements and/or different views of some items.
Click the item in the photo description to see more...
This is my personal collection and not for sale.
Back row, left to right~
Wild Heart Promo poster ~ Buckingham Nicks Album signed by Stevie & Lindsey ~ 1983 RIAA Gold Record Award for the Wild Heart Album
~ Crying in the Night 45 single ~ "No Spoken Word" (photograph of Stevie's original painting by Herbert Worthington, III) ~ coffee mug from Stevie's Millennium 2000 Tour ~ promo kaliedescope for the OSOTM album ~ tambourine from SSE, decorated with stars, a heart and many ribbons, signed by Stevie ~ hologram from the rare OSOTM UK cassette ~ Enchanted Tour Teddy Bear (I made the wreath) ~ personalized photo from the Dance signed by Stevie ~ promo hourglass for TimeSpace ~ pearl earrings from SSE ~ Nightbird 45 single ~
Herbert Worthington, III photos ~ Street Angel Pin ~ velvet and satin dress signed by Stevie ~ crystal bead necklace from SSE ~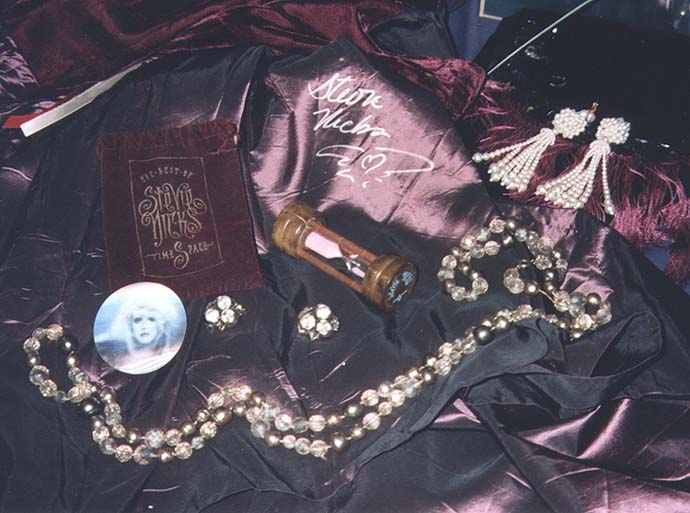 Close-up, top left to right~
Stevie sig on dress ~ pearl earrings from SSE ~ velvet fringed purse by Gypsy63 ~ promo velvet bag with hourglass for TimeSpace ~
hologram from the rare OSOTM UK cassette ~ rhinestone crystal earrings from SSE ~ crystal bead necklace from SSE ~
Back row, left to right~
Wild Heart Tour poster (Market Square Arena) ~ Rhiannon print signed by Stevie ~
Wild Heart reel to reel tape ~ promo banner for Wild Heart ~ 10K gold Wild Heart ring ~ 14K gold Wild Heart necklace ~ Stand Back 45 from Spain ~
CD bin divider card for the Enchanted Box Set ~ hologram from the rare OSOTM UK album ~
Edge of Seventeen 45 from Belgium ~ promo Pet Tornado for the Twister movie soundtrack ~
More Stevie Memorabilia
Stevie memorabilia at the Hard Rock Cafe in Phoenix, Arizona
Stevie & Fleetwood Mac memorabilia at Alice Cooperstown in Phoenix, AZ
Stevie & Fleetwood Mac memorabilia at the Hard Rock Cafe in Cleveland, Ohio
If you have a page on the web with pictures of your personal Stevie Nicks collection I will gladly add a link
I LOVE TO TRADE !!!
I basically collect rare music, 7" Picture Sleeves, Backstage Passes, official Promo Items (non-music), Posters, Photographs and Books. Anything related to the Wild Heart & 1999-2000 Holiday Tours.
email me if you don't see what you are looking for...