8 Weeks Old - Bus Kitties Go On Tour
It has been another busy and exciting ten days for the Bus Kitties and their Mom, Calliope! They turned seven weeks old on May 5th and seem to be growing and finding their own individual personalities. We decided to take one of them in to the vet to see how they were doing with their weight and we decided that since he was the smallest of the bunch (but only by a tiny bit), it would be Sam. Sam decided that he didn't like the car much but he is a very brave kitten and he did his best...having exemplary behaviour while at the vet. He won the heart of one of the very kind people who work there, Lora...and went back to get weighed without a meow! Lora has helped with many of our kitty questions and we thank her. She says that she collects black cats, having four larger versions of Sam at her house already. Sam is destined to be a HUGE cat when he grows up, currently weighing in at 1 pound and 12 ounces. Go Sam!!!! While weighing him, Lora showed him to one of the vet techs, also a kind person named Lindsay. It must have been love at first sight because Lindsay decided to adopt Sam on the spot. We were ecstatic and so very happy for Sam. How could he get a better home with a kinder person than someone who day to day cares for animals?! For us, it was a blessing and we thank Lindsay for that, from all of us and Sam's huge family of people and cat friends large and small. Lindsay tells us that Sam has joined her large family that includes four dogs and three cats, Daffodil, Miss Molly, and Gimpy. Sam has been a wonderful kitten and now he is getting a chance with a great family to grow up into an awesome cat! We were able to keep Sam for one more night and we cried all the way to the vet when we took him to Lindsay, but we were happier than we can say about the chance he now has. And, we are happy to report that we spoke to Lindsay the next day to see how Sam was doing. He passed all of his kitten tests with flying colors and had gotten shots and a check-up. She said that she was amazed at how friendly he was, even staying out to meet a friend who had come to her house to visit on his very first night there. We miss you Sam...and we thank you so much Lindsay...and Lora, for the help you gave us! We are happy that we will be able to check up on Sam from time to time and we know that he is in great hands.
The very next day, we took two more of our cat children to their new home with Sherrie and her family They were very patient for nearly three weeks waiting for the arrival of T.J. O'Malley and Oreo. We have grown so fond of all of these baby cats and it is the hardest part, letting go of them. But, we could ask for nothing more than a nice home for them...with kind people. And we have been so fortunate to have found all of them a place. More than that, it would seem that the people and friends where they are all going have stepped forward and offered them space in their homes and hearts. For that, again we are so very grateful. We met up with Sherrie and her kids the following day and they were overjoyed to finally meet their new kittens O'Malley and Oreo. Oreo did not like the car and cried the entire way there. O'Malley on the other hand seems to be curious about everything and he actually sat on the armrest of the car as we drove, looking around and not saying a thing. We were happy to meet Sherrie's group and are so glad that the kittens are in great hands with them. When we spoke to Sherrie the next day, she said that they were doing wonderfully with O'Malley being less shy but both seemed to be adjusting well. Again, we cried for a couple of days but the great thing is we still have Ellen and his brother Rajguy and their sister Steve. They will be staying with us a bit more until they go to their new homes in NY. Steve says that she thinks that she will stay here and we said...okay, fine! The great thing is that we get to continue to have the pleasure of watching them grow and change. They are so much fun and so sweet. Calliope spent one day looking for her babies that had left so suddenly, but we think that the three she has are enough of a handful. I guess that this is the natural evolution of the relationship with Mom cats and their kittens. Calliope has been a wonderful Mom and continues to guide the three who remain. Together with Calliope, we are taking good care of the kittens who are with us and we know that they are eager to get up to NY to be with their new families!
To all who have helped us, who have given us information and guidance, who have opened their homes and their hearts, we cannot say thanks enough. Unfortunately, this was a very common story. Because so many were so caring, it has had a remarkable evolution. Apparently, Calliope was abandoned in front of a fast food restaurant. When we stopped to check on the cat, an employee came out of the store to ask us to please take her...that she had been here for some time, living on scraps. A kind person had put a sweatshirt on the sidewalk and Calliope was using it as a bed. There had been a recent freak blizzard and Calliope had made it through. But, we were told that the store manager had decided to call the pound to have Calliope picked up. At that point, we made the only decision that we could...we took her with us. At the time, we did not know she was pregnant, imagining that she was a kitten herself. We thought that we were giving one cat a chance at a better life...it turned out to be seven cats. Had we driven away that day we would never have had the amazing chance to meet any of these wonderful cats and in all likelihood, they would never have been born. So many incredible cats and kittens never have a chance. Please, if you are reading this, understand how vital it is to have your animals spayed or neutered. Steve will be going in as soon as she is old enough and oddly enough, Calliope is now in heat again. We are amazed that even though these kittens are only eight weeks old, and still nursing, she could now have another litter if she were not being kept inside. All of our other cats are spayed and neutered and Calliope will be spayed in the next couple of weeks.
Some more photos of our friends follow. We hope to keep the site up to date as we have more information and photos from our kind friends who adopted our furry babies. The Bus Kitties carry on...we carry on...and thanks again to Lindsay and Lora for their help with a home for Sam. Also, thanks to Sherrie and Family, Jeanine, and Beth & Ilana.
O'Malley and his Mom on the day he left home
Oreo playing ball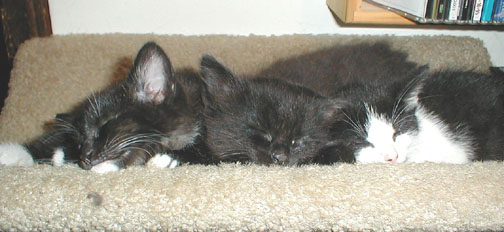 Three little kittens Rajguy, Sammy and Oreo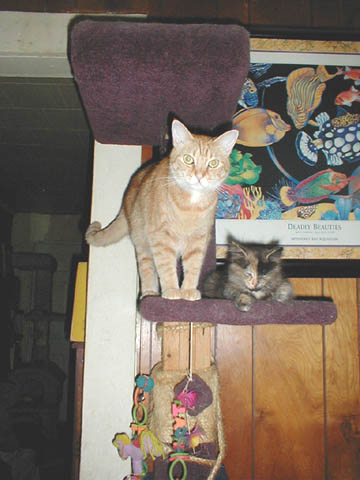 Aunt Honey Hi and Steve McQueen
Ellen and his bear friend
Steve answers the door at the Home of the Bus Kitties
Sam and his favorite mouse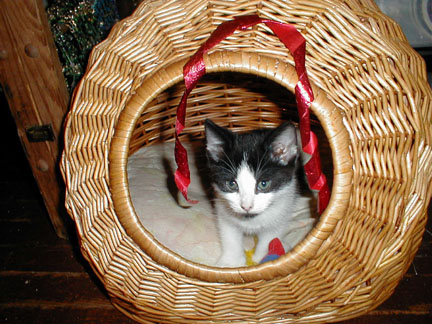 Oreo
Ellen and his Cat Mom
Abraham Delacey Guiseppe Casey Thomas J. O'Malley the Alley Cat
A very regal Sammy Davis, Jr.
Steve says that the bear belongs to her
The boys in their new fort... Oreo, Rajguy and O'Malley
Ellen, Sam and Calliope
Oreo looks for Sam
Dreaming of NY
The poster cat...Oreo
O'Malley shows us that he is huge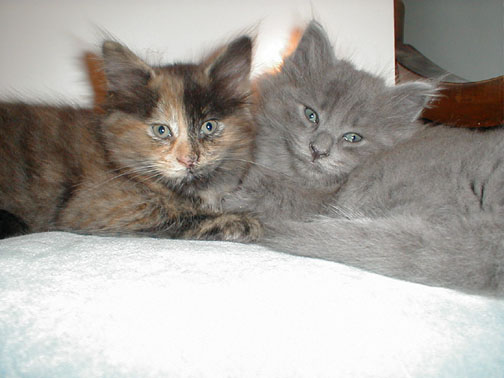 Fuzzy buddies Steve and her bro Ellen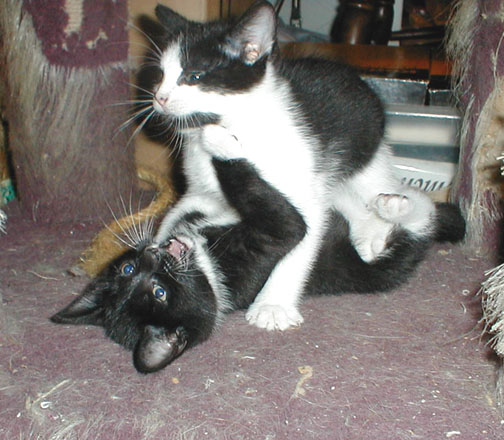 Oreo and Rajguy battle for their favorite spot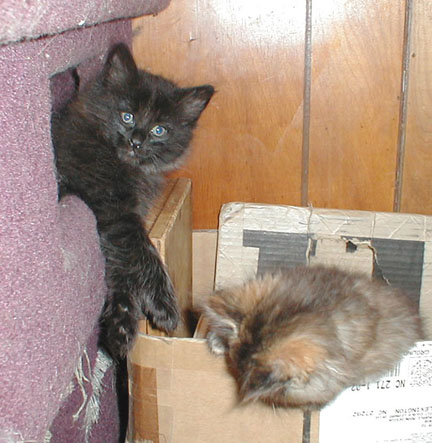 Sam peeks out the window at Steve
Steve sits by the door that we removed and saved from the Home of the Bus Kitties
Steve loves her brother Oreo
Oreo and Rajguy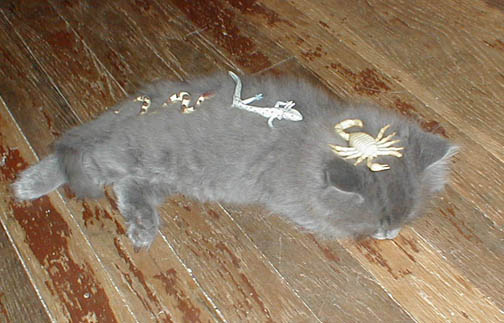 Nothing wakes a sleeping Ellen...not even his rubber bugs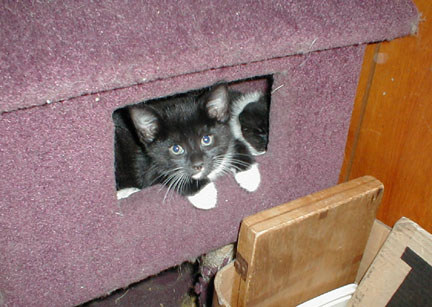 O'Malley
Oreo at rest
Thanks again from the cat people: Calliope, Steve McQueen, Rajguy, Ellen Degeneres, Thomas J. O'Malley, Oreo/Jerry, Sammy Davis Jr, Kumo, Kashmir, Precious, Pearl, Gabriel, Honey Hi,
Lucy the dog and Michelle & Sally!
email us at nomad@ptmc.net
Bus Kitties' Baby Photos Page 1
Bus Kitties - 5 Weeks Old Photos - Page 2
Bus Kitties - Travel Furthur Photos - Page 3
Bus Kitties - Learn to Drive Photos - Page 4
Bus Kitties - Go On Tour - Page 5
Bus Kitties 2010 Birthday Celebration!